The safety of branch loggers is based on the used three fixed blades system which takes the branches itself. It is easy to pull out branches from input hopper. Check the video at 5:58.
All URBAN branch loggers have a long inlet hopper with the safety frame. You can stop the machine when you press the safety frame on branch loggers with gasoline engine, with electric engine or with hydraulic drive. Check the video at 6:25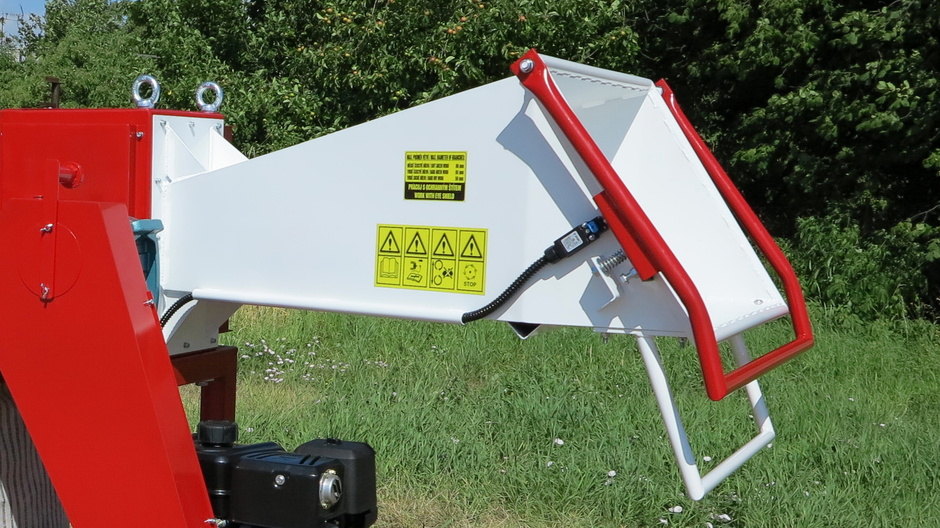 The safety frame of branch logger behind tractor is connected to tractor, when you press a safety frame the drive coupling is disconnected in the tractor or the tractor is stopped. The connection depends on tractor type. See the safety frame with end switch, which is connected to the electric valve in tractor, which operate the pneumatic cylinder of the drive clutch. At 3:03 you can see the shutdown function on the following video.
The main safety rulls during working
Use a face shield. Ideally a net shield that does not fogging.
Do not stay in front of inlet hopper during working. Always stay on the side of the machine. After branch inserting, move to the side.
Do not touch or lean to the inlet hopper. Use a long branch if you need to move the short one in inlet hopper.
Do not touch to the bagging device or to the branch logger's output.
Always read the operating instructions and follow all the instructions in this manual.